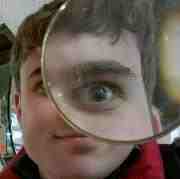 Why?
So why do I have my own website, isn't that a bit weird? I don't think so. You see, there's so much cool stuff in the world and on the web and if you want to share it then it helps to have somewhere to talk from. Facebook, twitter, email... they're all good ways to get people's attention but ultimately you're constrained by what those services let you do, instead of by what you want to do. So what do I do?
I am nearly finished a PhD at the University of Leeds where I studied malaria using both computers and test tubes. There is a perception that people aren't interested in science and yet whenever I talk to people, even if they hated science at school and avoid it on the news, they're fascinated by the work we do. I'm trying hard to help people find a way to follow that interest, not just by watching Brian Cox but also by engaging with people they're too scared to ask questions of. There's a section called malaria about this so why not take a look?
Also, I'm really interested in making science simpler. Our capacity to understand complexity is limited and yet too many educators and scientists hide behind complexity instead of removing it. I don't hate complexity, it's necessary, and most advances are complex and based on previous achievements. But unless we find ways to express and share our current knowledge simply we'll keep struggling to reach new levels of complexity. Without realising it at the time, much of my work during my PhD was about simplifying a complex field. I wrote MetNetMaker so that people could worry about the complexity of novel metabolic networks instead of worrying about the complexity of the tools they use to build them. I wrote the Wikipedia page on flux-balance analysis so people could spend their time examining complex systems instead of learning the techniques required for that analysis. I have led tutorials and problem sessions at the University of Leeds so that students can reach the cutting-edge of science more quickly instead of being bogged down in the often unnecessary complexity of the things we already know. The section about this is called MetNetMaker/PhD.
I've developed three apps for Nokia smartphones. They're not great but they're okay and I learnt a lot doing them. There have been some good reviews and about 10,000 downloads so it definitely wasn't a waste of time. If you've got a Nokia smartphone running Symbian feel free to check them out. I doubt you want someone to write Nokia WRT apps with you but if you want to work with someone who finds their own projects, learns the skills and makes the contacts needed to make them happen, and has those skills and contacts ready for future projects... well, my contact details are at the top and bottom of this page. I'm primarily living in Leeds until at least the summer though, that's not up for negotiation.
I also have a couple of ongoing projects that I hope to spend the next six months finishing. One's about the worrying trend in the UK for people to think it would be a good idea to leave the EU. It seems that everyone in this country has gone a bit Oscar Wilde with regards to the EU and we seem to know the cost of everything and the value of nothing that it does. Spend five minutes explaining why the EU is a good idea and I've not met anyone who doesn't agree that we should fix the bits that don't work well but certainly not leave it all together. Even the Conservative party in the UK, who love trading on near-xenophobic eurosceptisim, realise that we need to improve the EU, not leave it.
Another passion of mine, friends call it an unhealthy and tiresome obsession, is the gap in wealth, health and opportunities between the North and South of the UK. Few people realise that of the 27 countries in the EU only Hungary has a greater regional divide in wealth than does the UK. There's a reason for this and it's a reason that politicians, journalists and economists, almost all of them within the London bubble, have spent thirty years studying and then thirty years refusing to accept or do anything about. It's reaching a crunch point. Scotland is so sick of London's domination of the UK that they're holding a referendum on leaving it. Wales aren't far behind and if the North of England had as shared a culture and history I don't think we'd be far behind. I quite like the UK but I think it's time to change, and I'd like to help in the process of doing that. Part of that process involved me not taking a well-paid job in London and staying in Leeds. It was a pretty big gamble but I reckon I'd probably rather fail than be bored succeeding.
Well, there are two sections on all this, but they need to grow and I already have a lot more stuff I've been doing in the background for years that I'm nearly ready to share...
Finally, I'm taking a while to try out new things while I'm finishing the old stuff and there'll be a page on that soon. Truth is, a lot of people aren't very good at doing things and I'm not saying I'm great but I often do stuff that people end up paying me for. Being creative and being a scientist aren't exclusive and I'm hoping that if I spend all my time doing things well, then enough people might want to pay me. I've had a good income for the last four years and Leeds is a cheap city to live in so I reckon I've got time to try things out. Why not read some of the pages on this site, follow me on twitter, send me an email, or come round for a cup of tea. There's even a spare room if you're coming a long way. Whatever it is, don't be shy. If you've got an idea to discuss, or something interesting you want to do, either in the North of England, or on the internet, or anywhere you've got a sofa and blanket, get in touch...
Thanks for reading,
Tom